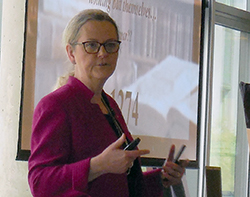 When considering how to build work-life programs that are inclusive, honoring the unique experiences our constituents have had across their lifespan is an important element that can sometimes go overlooked or undervalued. The CUWFA Conference keynote speaker, Nora Spinks, is the CEO of the Vanier Institute of the Family, a research and education institution based in Ottawa, Canada. Her keynote address explained the importance of understanding generational differences in developing programs and interventions that will be effective in our workplaces.
Spinks began her speech by explaining that "the reality is that we all have something to contribute to the workplace." The question is really about how we harness the skills and assets that each generation brings to the workplace environment. During her talk, she described some of the universal experiences that helped to shape each generation's general perspectives and values, which in turn influence behaviors and preferences at work and in interpersonal relationships.
Through her research and the science behind brain development, it has been found that many of our messages, behaviors and preferences are formed by the age of 10. These childhood moments are of utmost importance, and Spinks explained how each generation's after school experience has actually influenced the behaviors and expectations we have as adults in the workplace. In fact, it is these moments that taught us certain skills. For instance, after school the Boomer generation would typically go to a park and play with peers, which has, as Spinks argues, led to this generation's desire for face-to-face interactions in the workplace. Gen X, however, was the "latch key" generation and were expected to go straight home after school, so maintained many of their friendships over the phone. Therefore, in the workplace people who are part of Gen X may prefer, or be more comfortable with, conference call types of meetings and interactions.
Spinks then related these generational realities to the ways in which our brains form and make sense of the world around us. She said, "Brains think in pictures first, words second, numbers third. As you're building your business case and your platform for work-family programs, think pictures first, words second, numbers third." She explained that our brains preserve energy by making quick associations in order to be ready for fight, flight, freeze at all times. The brain makes the easy  connections first, such as through the use of rhythm and rhyme. Spinks said, "Get people's brains to work for you, not against you." As we are building programs
and marketing them to our constituents, Spinks encourages us to consider the pictures we are using and the words that are helping people's brains make connections between work-family programs and the benefits that our units are providing. She also warned not to underestimate the power of unconscious bias—be deliberate about the language that you are using and the impact that it may have based on someone's generational perspective.
Additionally, Spinks explained, "When you're thinking about work and family, think about the ways in which the generations that you're serving and wanting to include, want to engage." Each generation has the potential to offer unique and powerful contributions, but they need to be engaged in order to provide these outcomes to the workplace. In general, each generation might have different preferences around how they learn, how they communicate, the rewards systems that are important, and how they think about leadership and opportunities/advancement in their careers. These are all important in developing programs and interventions that are inclusive of people regardless of their generational experience.
"The future of work-family programs is dependent upon being attentive to the people you are attempting to support and serve in your workplace. They come from every cultural background, every experience, every type of housing, childhood, adolescence, education. Don't try to use one size fits all. Be respectful, be  responsive. Don't assume anything. If a program isn't working, it may just be packaged wrong, or it may need to be tweaked," said Spinks. This need for adapting programs is important especially as the populations in the workplace change over time.
"Remember when you're reflecting on where you've been, where you are, and where you're going to remember that it's not the strongest species that will survive, but that which has the strongest capacity to adapt. And your programs might have been great in the 80s and 90s, they may need to be tweaked in the future," Spinks said. Even despite generational differences, some things don't seem to change significantly. "When we've asked employees, since the 80s, what is it you want from your employer first and foremost in order to achieve high work-life quality? By far, consistently, the answer has always been: respect. Then, the second question is, what do you need from your employer? The number two answer is that they need autonomy, control, flexibility, access. Trust."
By building strong work-family and work-life programs that are responsive to generational differences, we have the ability to build respect and trust in the workplace.